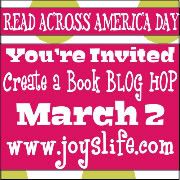 Welcome to "Cricut in My Classroom" and to Joy's Life Create A Book Blog Hop. If you have not arrived here from Sandra, at 365 Days of Cricut, you may want to go back and start at the beginning. You don't want to miss any of these creative ideas! I am new to the blogging community and am excited to be participating in my first Blog Hop. We are celebrating "Read Across America" by creating our own books. Read Across America is annual event celebrating Dr. Seuss' birthday designed to promote reading in schools across the country. Our school is having special dress-up days this week to celebrate. (You'll see me dressed up at the end of this post - I love to embarrass by two boys!)
My book creation combines two of my passions - paper crafting and children's literature. I am a first grade teacher and my students were more than willing to help with the project. They shared some of their favorite books and book series, and now I will pass them along to you. I created a small scrapbook using my new Your Story.
This is my sweet friend and teacher-neighbor, Kim on the right, and me on the left.
We are Thing 1 and Thing 2 from Dr. Seuss' "Cat and the Hat."
Blog Candy!!! For a chance to win the DCWV small stack, Grade School, some school-themed embellishments, and a small pack of clear stamps, leave a comment on this post. I will choose a winner this Friday, March 4th. Please join me as a follower. Thanks for stopping by!
Your next stop is Misty. Here is the full list:
Joy -
http://joyslife.com/
Tammy -
http://tammyjennings.blogspot.com/
Rosy -
http://sweetdelightspapernmore.blogspot.com/
Jin -
http://www.underacherrytree.com/
Melissa -
http://melissa-moecreations.blogspot.com/
Amanda -
http://amandascraftsandmore.blogspot.com/
Ruthie -
http://www.septemberninth.blogspot.com/
Martha -
http://pattisscrapingtime.blogspot.com/
Scraps2Treasures -
http://scraps2treasure.blogspot.com/
Suzanne -
http://cricutcraftingrammy.blogspot.com/
Sandra -
http://365daysofcricut.blogspot.com/
Becky -
http://www.cricutinmyclassroom.blogspot.com/
You are here!
Misty -
http://www.abusyplace.blogspot.com/
Lisa -
http://bitbythecricutbug.blogspot.com/
Blessings!
Becky